The Medford Gospel Mission's Restoration Team is a group of men and women that are dedicated to helping men and women up the road of whole person restoration.  They teach classes, lead bible studies, preach at chapel services, and coach individuals that are enrolled in our program.   
Christ-centric restoration happens as they walk along side men and women equipping them to address the challenges that they face in these five key areas: spiritual, emotional, social, physical, and educational.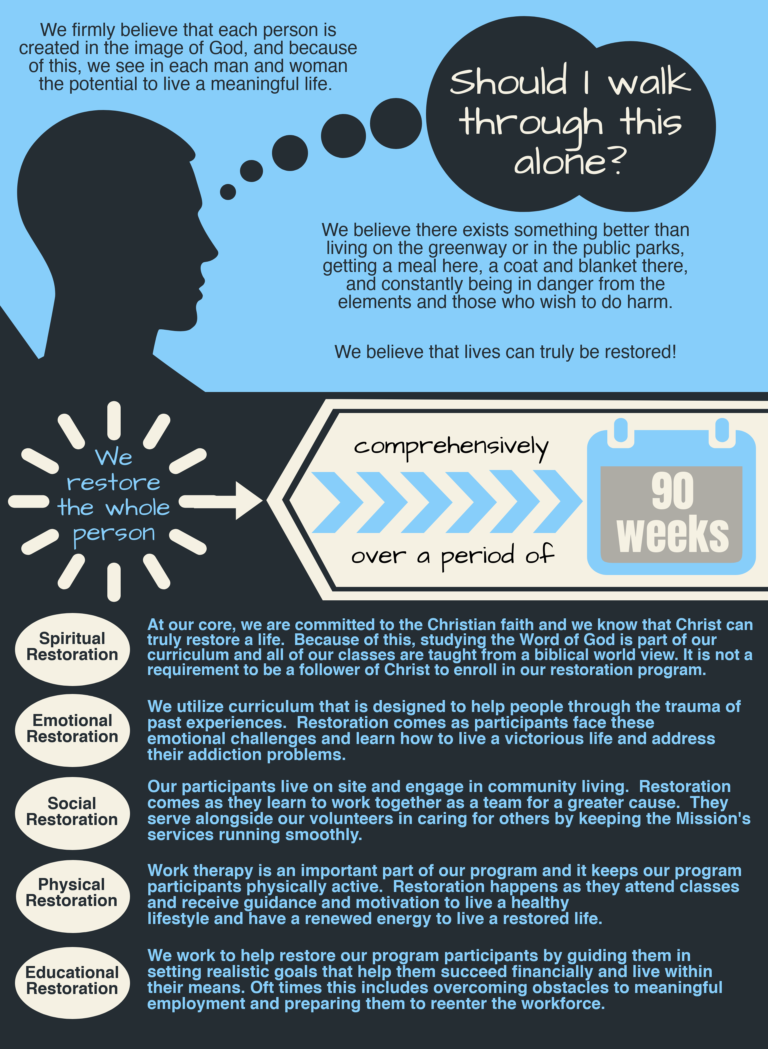 The Medford Gospel Mission is committed to the foundational doctrines of the Evangelical/Protestant Christian faith therefore it is necessary for all our volunteers that teach and preach to agree with the essential doctrines as described below and are members in good standing of a local protestant/evangelical church.
We recognize in the Church of Jesus Christ that there are disputable matters, doctrines upon which members of the Church differ; therefore, we have established what we consider essential versus nonessential doctrines. The following are doctrines of the Church we consider essential to the Christian faith.
Word of God: We believe the Bible to be the inspired, infallible, Word of God and the final authority in all matters of faith and practice. (2 Timothy 3:16, 2 Peter 1:21)
Triune God: We believe there is one God, eternally existing as Father, Son, and Holy Spirit. (Isaiah 45:22, 1 John 5:7)
Christ: We believe that the Lord Jesus Christ is Deity, that He was born of a virgin, that we are redeemed by His atoning death through His shed blood, that He bodily resurrected and ascended into heaven, and that He will come again in power and great glory. (John 5:39, 1Corinthians 5:21, 1 Corinthians 15:4, Acts 2:9-11)
Grace and Faith: We believe that people are saved through a direct, personal encounter with the risen Lord, at which time they are regenerated by the Holy Spirit, and that salvation is by grace, through faith in the Lord Jesus Christ, apart from works of righteousness. (John 3:16, Ephesians 2:8-9, Titus 3:5)
Work of the Spirit: We believe in the present ministry of the Holy Spirit, by whom Christ indwells each believer, enabling them to live a Godly life of obedience as they reach for spiritual maturity. (John 14:16, 17)
Universal Church: We believe the Holy Spirit unites all true believers in the Lord Jesus Christ and that together they form one body, the Church. (Colossians 1:18, 24)
Local Church: We believe in the importance of the Local Church. Jesus established the church to be a public, earthly institution that would mark out, affirm, and oversee those who profess to believe in Him (Matt. 16:18-19, 18:15-20). Jesus established the church to publicly declare those who belong to him in order to give the world a display of the good news about Himself. (John 17:21, 23; see also Eph. 3:10)
Glory: We believe in the resurrection of the body unto eternal existence either in heaven or hell. (Rev. 20:12-15, 1 Thes. 4:14-17, Acts 24:15)
Men and women come to the Medford Gospel Mission from various doctrinal backgrounds and it is our desire to encourage them to become well-grounded in the basics and the fundamentals of the Evangelical/Protestant Christian faith. In order to maintain peace and unity among all the churches, we ask all employees to limit any and all teaching and preaching to the essential doctrines of the faith as defined in the above foundational doctrines.
Please refrain from non-essential doctrines which include, but are not limited to, the differing views on end-time theology, faith-healing, prophesying, as well as the workings of particular gifts of the Spirit. These teachings, although important, are more suitable to teaching in your particular church environment and are beyond the scope of the ministry of the Medford Gospel Mission. With that said, please do not criticize other churches or denominations.
If you are interested in joining our restoration team or would like more information, please fill out the form below.